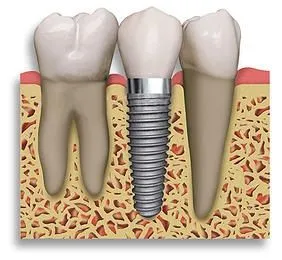 Dental implants are a permanent and appealing solution to replace missing or extracted teeth. They are better than other alternatives like bridges because no additional teeth need to be altered to place the new tooth.
Dental implants are titanium anchors, which act as tooth root substitutes. They are surgically placed into the jaw bone.The healing period following your surgery is a crucial period in the implant dentistry process. During this time your implants will fuse to the jawbone, acting as a tooth root and creating a firm, stable hold of your restoration. This healing period, known as osseointegration, can take between three to six months. As soon as the implant has properly integrated, we will custom design your permanent restoration. Implants can support crowns for single missing teeth, bridges for multiple missing teeth, and they can even be used to restore entire missing arches of teeth. Dental implants can also be used to stabilize dentures and partials that won't stay in place.
Dr. Scott is a member of the American Academy of Implant Dentistry and has undergone extensive training in all aspects of implant dentistry. At McKenzie Family Dentistry you do not have to hassle with having to coordinate with multiple offices for implants. We have the technology and training so that the entire process from planning and surgical placement to the final restoration can be conveniently completed in the comfort and familiarity of our office.
We invite you to contact us for a consultation to see if dental implants are the right choice for you.